In case you were wondering how my outfit represented my blog: what made it eco friendly, or ethical, or maybe you were just wondering what that glittery spot doing twinkling between my eyes was... here is a little break down of my outfit!
So of course getting an invitation to an Awards Ceremony, just like most ladies, my thought was
what on earth am I going to wear!!??
What was obvious, was that I wasn't going to go and buy any thing new! It turned out I didn't need to buy ANYTHING at all!
My intention was literally to GO GREEN! To represent my brand in every shape and form - from colour to content!
When I returned to Gloucestershire after my travels I visited Stroud town - mainly because I had discovered a cool local eco brand based there called Madia and Matilda. They were closed at the time, but I ended up trawling charity shops.
There was a new pop-up store in town– run entirely by volunteers from Refugee Aid Stroud. It opened its doors in the High Street under the new name Rasmachaz. It's such a cool shop, where the money raised is being sent directly to a number of different causes in countries across Europe and the Middle East.
It was here that I picked up this lush green dress, which I initially bought with a photoshoot in mind for RoEo Fashion. It ended up being perfect for this occasion: from a local charity shop in the Cotswolds; money goes to a good cause; and it's green! #whynot!?
The rest of my outfit was then pretty much based around my bag that I simply had to love and to hold!
During my time in Indonesia - Bali - Sanur, I strolled past a small intriguing shed - It turned out to be RoEco heaven! Full of Recycled Stuff: Bags, purses and accessories made from recycled plastic bags, wrappers, pull rings (collected and cleaned in the local area), and upcycled inner tube!
Well, I couldn't leave the shop with out buying any "Recycled stuff", in order to support such an inspiring and creative cause! I spoke to the lady working in the store and she kindly passed on my details to the incredible designer and owner Ana Maulida. More will be revealed about her in a future blog post!
Once the bag was set in stone - shoes were the next call!
I always find when it comes to dressing up, things just come together... with a little thoughtful conscious consideration of course!
After backpacking around South East Asia in flat thongs and bare feet, (having come from a background in performing and fashion where every day's a heels day...) when I reached Oz for the second time to 'work', 'settle' for a few months, and attend city nightlife, one of the first things I did was pop to my local 'op shop' where I picked myself up these stunning sparkly heels!
But this wasn't about shopping to fit back in to society (now that I was no longer living solely out of a backpack), it was a gesture in order to hold myself tall; a moment of strength to reclaim myself again, my femininity and move my life journey onward and upwards! And trust me the heels really helped!! #heelpower
Lets just say it was time to change my shoes...
and just weeks after I was back in heels - I had not only changed my shoes, but my perspective and lifestyle. It was during this time that I created RoEco Fashion and modelled in my first photoshoot after 2 years off! I was privileged to work with an amazing photographer called Nish, who mastered the first images I used to launch RoEco Fashion! #thankyou!
So in other words... these heels basically went with the bag and were perfect for the occasion!! ;)
Next up was accessories:
Considering I have two pierced earlobes, (but also because I am terrible at making small decisions....) I figured why not show off two awesome upcycled earrings!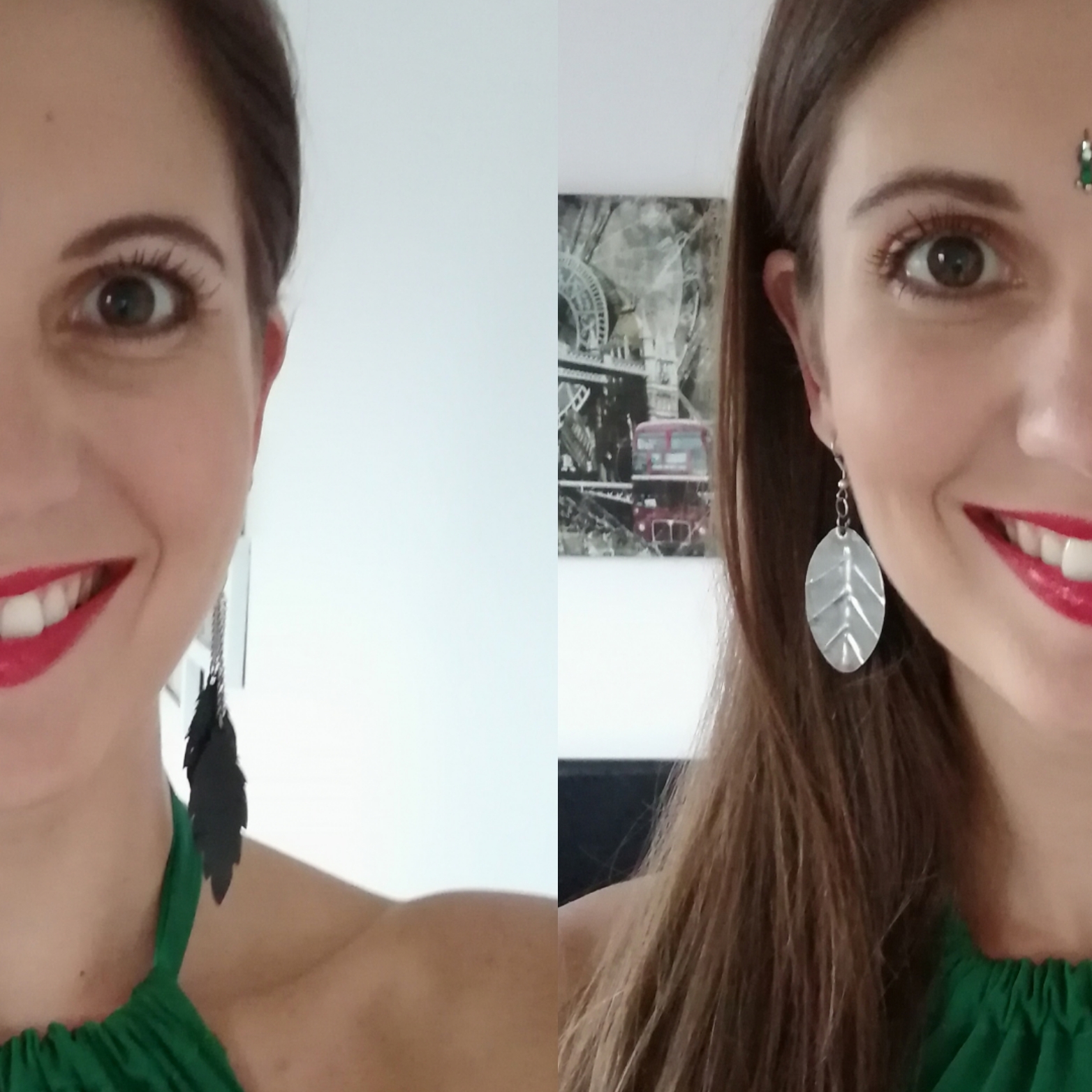 First up was one of the earrings that I received as a gift last Christmas (thanks bro... Kylie). This awesome company called PAGURO collaborates with talented artisans based in the Indonesia, who handcraft recycled rubber (such as tyre inner tubes) into accessories, in an eco friendly and cruelty free process.
Fact:
Upcycled inner tubes are becoming increasingly "popular leather substitutes, due to their similar texture and unique patterns". #andsoitshould
Over the past five years, they have recycled 3,660 inner tubes. That represents 12,810 kilograms of rubber which has been diverted away from landfill. #wow!
I bought the other earrings a few years back during my travels in Cambodia from Friends 'N' Stuff: a lifestyle brand inspired that creatively transforms everyday materials to help empower families.
They are associated with a wonderful organisation called Friends- International who are a leading social enterprise saving lives and building a sustainable economy to marginalised youth, families and communities. It was founded in Cambodia, but they have now spread throughout South East Asia including Thailand and Laos.
" We believe in helping children, not employing them, which is why all products are made by adults earning fair wages and health benefits in safe working conditions. By reinvesting all profit into our social programs, Friends 'n' Stuff doesn't just break the cycle of poverty – we fight to end it."
Can you guess what these are made from!??
SPOONS!!
How cool is that!? I do love a good spoon... it's amazing what you can actually do with them! They are one of my favourite pair of earrings I have, I still wear them regularly!
Okay, so I had the dress, the shoes, the bag, the accessories. But something else was missing...
To complete the RoEco Fashion awards outfit I decided to wear a Bindi...
There were a few reasons for this:
I wanted to represent the opening of the third eye: the seat of "concealed wisdom"; the gate that leads to inner realms and spaces of higher consciousness - said to be the sixth chakra, ajna... But in simple terms, it was used to inspire people to acknowledge thoughts with a higher consciousness, to enable them to make conscious decisions and take thoughtful actions.
My journey started when I was a Bollywood dancer in London (I used to wear them when I performed). I was offered a dance contract in India, which lead me to my travel adventure, where all my eyes opened!
But most importantly, it represents all the talented artisans in Asia and around the world working like slaves in sweatshops and suffering for the sake of the fast fashion industry!
(P.S. I took the Indian bangles off before I left - they were catching on the dress :-P)
Thanks for your support and patience... I have had some important exams - one to go! :D
Thanks for taking your time to read my blog post!
Sending you inspiring thoughts of love, light, laughter and ECOness!