I'VE BEEN SO EXCITED TO TELL YOU...
If you read my blog post So Just Shop you would have noticed that I mentioned I had some special news to share about CASTELLANO ETHNIC ORIGINS...
I am proud to announce that I am their BRAND AMBASSADOR!
I am delighted to represent such an ethical and inspiring company, who are creating quite a presence across the globe!
"We believe in people who strive to make an impact in the world, and you are one of them! We are always looking to collaborate with people as passionate about life, traveling and sharing experiences with other people as we are. When we read your blog, your story and saw the work you do in trying to educate the world on the fast fashion industry and its consequences we thought you would be the perfect partner throughout our journey".
Why do I want to represent CASTELLANO?
CASTELLANO is a fair trade sustainable luxury brand.
They collaborate with indigenous artisans in North Colombia.
They produce a one-of-a-kind luxury product showcased on a global market scale.
The company focuses on empowering indigenous communities whilst sustaining the finest and traditional craftsmanship in Colombia
Each bag, in fact, each weave and every single stitch tells a special story of Colombian tradition
They even go as far as helping to provide clean water! You can read more about this HERE or watch this video
In other words, why on earth wouldn't I?
Whose hands?
CASTELLANO products are hand made by Northern Colombians known as the Wayuu people, living in "Ranchería" a small, rural settlement, or huts in the desert of La Alta Guajira on the Caribbean Sea coast. where families of different clans live. Speaking a language called Wayuunaiki.
It it is the largest and strongest indigenous group with a population of 70000 people, representing 57.5% of the American Indian population! #wow #really? #fact!
They have a strict ritual for all women at their young age called "Blanqueo". This is a period of initiation where every girl is isolated from society and must live with her grandmother. During this period the girls learn crafting techniques that are applied in the making of household goods: Crocheting bags known as Mochilas, embroidery, to decorated dresses, sprang and twinning for the making of simple hammocks.
Some of the tribes rely entirely on crafts for their income. The Wayuu make all kind of handcrafted products for their own use and for trade.
These people are pretty awesome because not only do they produce extremely complex crochet and textile techniques, but they preserve and celebrate their heritage and traditions!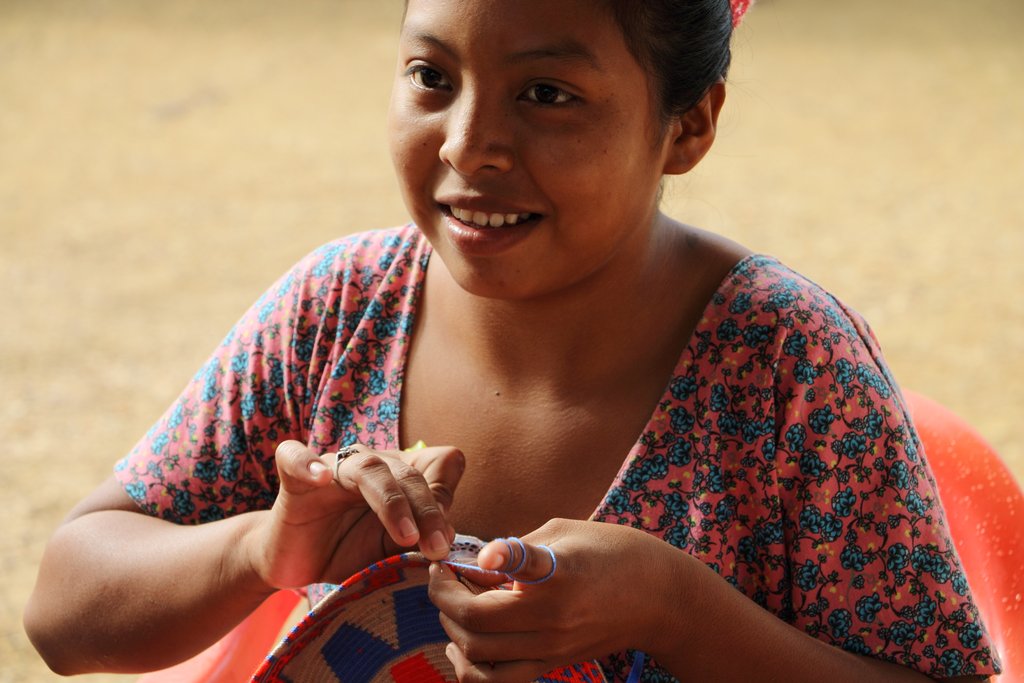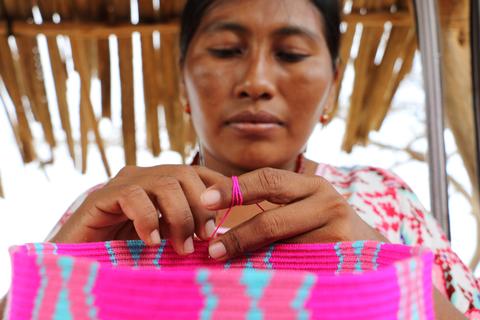 CASTELLANO has embraced this talent by working closely with the Wayuu people who create incredible Mochila bags that are now sold world wide! Click HERE to browse and purchase!
The Wayuu bag represents self-expression and self-discovery; take it with you on your adventures and together you can explore the world!
If you are interested in learning more about Wayuu textiles and weavings techniques CASTELLANO highly recommend you to visit Mirja Wark and take a look at her book completely dedicated to the Si'ira!
CASTELLANO also collaborate with...
Another Colombian indigenous clang called The Arhuaco people.
They are a Chibchan-speaking community and descendants of the Tairona culture, also concentrated in northern Colombia, in the Sierra Nevada de Santa Marta and Cesar- a mountainous region close to Colombia's Caribbean coast. Together they number more than 30,000!
One of the huge reasons I really love these guys is because they believe it is their responsibility to maintain the balance of the universe:
"When there are hurricanes, droughts, or famines around the world it is said that they are the cause of human failure to keep the world in harmony".
To achieve balance, Spiritual leaders, known as the Mamos maintain a natural order of the world through songs, meditations and ritual offerings. #PositvityIsKey #Inspiring
Arhuaca Mochila Bags
The Arhuaca Mochila truly represents the Arhuaco people! They are 100% natural handmade bags, mainly worn by the male members and only woven by Wati/Arhuaca women. They are said to posses the energy and the wisdom to make a unique creation for their husband. Because of this, the authentic Arhuaco man only uses the Mochila that his mother or wife has woven especially for him because that particular bag holds a spiritual and cosmological meaning beyond its aesthetics, allowing women to record their thoughts in them and keep them connected with her son and/or husband for all their lives!
"The natural colours and pigments are made from plants, roots, bark and wood from the Sierra Nevada de Santa Marta. Originally Mochilas were woven only with natural fibers from their lands, such as fique and cotton. Later the Spanish introduced sheep's wool. The bags usually carry indigenous drawings or representations of animals and other objects of their cosmology".
It is not only the intricate and time consuming technique that make them so special, but its ancient traditions and symbolism that they represent!!!
Danielas journey...
Daniela Castellanos is the founder of this incredible company. I have to say after reading about how and why CASTELLANO started I felt goose bumps because I felt connected to her beliefs and experiences:
Daniela completed a degree in Bogotá before returning to London with her backpack after having spent 5 months in Colombia, creating and developing CASTELLANO ETHNIC ORIGINS.
"My idea was to tell and show people in England the human stories of the indigenous women in my country by designing bracelets and handbags that would be handmade by them".
With next to no experience in how to run a business, Daniela used her sincere passion (and her life savings) to produce prototypes in Colombia.
"This was the first step towards reaching my dream to become a young entrepreneur who can make an impact in the world".
To read more about the inspiring founder Daniela click HERE and watch the video below!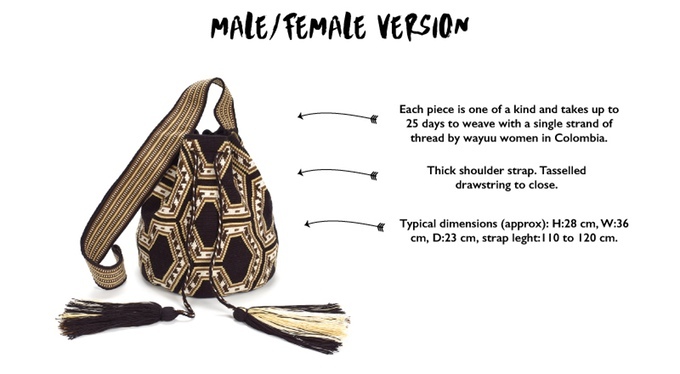 Lets KickStart CASTELLANO!
After Daniela quit her job to focus on her business, just two years after that life changing decision, CASTELLANO has thrived! They are now launching their Kickstarter campaign on the 25th October, to share it with the world as an international brand with a beautiful social mission! But in order to do so, she needs your support...
"I have no other investors, or received any financial aid up to this point. But I do have mentors, advisers and my loyal team of interns. We are a small team but we work very hard and with passion to gain trust and build a community of consumers who believe in our mission statement as much as we do".
and Thank you for reading my blog post.
Please feel free to comment, share, like or get in touch!
Sending you oceans of love, light and laughter!