Today RoEco Fashion is 1 year old!!!
I want to take this moment to thank EVERYONE for their support!
Together we have already made a huge impact on the world, the places people shop and the way people think about the fashion industry!
I have reposted below my very first blog post: My story - from Ro to RoEco. It is a reminder not only to you, but to myself, as to why I created RoEco Fashion.
I am bursting with pride and sustainable passion! I know lots of people make websites and blogs nowadays, but for me, this is quite a huge achievement! :D
I will be announcing the WINNER of my FACEBOOK CONTEST at 12pm GMT so keep an eye out! But for now...
Who am I?
I want my first post to tell my story and explain my growth from @RoannaD_Model to @Roanna_Travels to @Roeco_Fashion!
My name is Roanna, I trained as a performing artists and I used to be a commercial and fashion model. I met endless people in both the performing and fashion industry obsessed with image and overindulging in clothes and products to fit the idealised image of beauty and fashion trends due to the pressure of expectations enhanced by the media.
In my experience...
As much as I loved expressing myself by performing and via photoshoots, I found the industry to be very difficult, fake, discriminating and simply quite dangerous! I know this through experience! I tried to challenge and help create change in the industry by being a spokesmodel and ambassador for campaigns such as "Models of Diversity" where you can find my article with a short insight of my experience.
But as much as I tried to help, I also tried hard to 'fit in'; I lied about my height, I obsessed over my size and what I looked like. When you get told by designers and agencies that your arms are too fat, or your legs are too short, or your bum it too big, you gradually start to believe it! I came to the conclusion that maybe the fashion industry wasn't where I belonged after all…
Whilst modelling and performing, I also took part in countless promotional events and activities for various companies and products including Veet, Pantene, Tresemme, Lynx, Nivea, Dove, L'Oreal, where my job was literally to persuade the general public or a target audience to buy something they never intended to!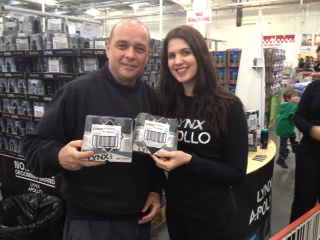 Moving on
After feeling unsettled in the industry I was working in, I took time out to fulfill another ambition of mine, to travel the world. I learnt a lot about so many different aspects of life, people and our planet. I saw the world for what it was! I lived out of one backpack for 3 years. I realised that minimalism is key, especially when you're carrying your belongings on your back! ;) I had an unreasonable amount of clothes at home, and literally boxes of shoes, to the point that I should never need to buy anything new ever again!! But unfortunately, there is just something about shopping that gives us temporary satisfaction. Inspiring minimalist blogger Joshua Becker explains this here.
It wasn't until I traveled and I gained control over my consumption, educated myself about the industry and started making conscious decisions by shopping Eco-friendly and second hand where I experienced real shopping satisfaction! When I purchase from a charity shop I feel great! Why? Because, there is no need to physiologically experience guilt and low self-esteem, or embarrassment! It's a place where you can shop and feel the opposite: You are confident the money is going to a great cause, it's still cheap, so your outgoings decrease, and items are valued and durable. You are also helping the environment because they are being recycled and therefore helping to reduce landfill. There is literally no baggage and there are no negative connotations when shopping second hand!
Our body, Our brain, Our decision!
Ironically, I don't actually like the word 'fashion', I prefer the word 'style'. I like to wear what Roanna likes, not what every commercial retail shop is selling and telling me I need in order to look 'fashionable' and 'in season'. I stick to seasonal style in the sense that when it is warm weather I will where little clothing and when it's cold I will wear extra layers of clothing! The fashion industry itself rotates, so why wouldn't we keep the cycle churning? Why are we choosing to pay towards a throwaway society, where its only interest is our money!?
As a traveler and model, I have a huge passion for photography. Photos tell unique stories and hold precious memories. Clothes do the same! Each item of clothing that is second hand has its own story and has had a great journey. High street retail stores on the other hand do not: there stories are dark and repetitive, each item is like picking up a horror story. Why would we choose to support such neglect in the world!? I believe we need to be more aware and mindful of our decision making! #WhoMadeMyClothes
Needing Therapy from your Retail Therapy?
We call it Retail Therapy: Including the word therapy, suggests that we need help. But the fact is, we can help ourselves! You will never cure a disorder by covering it with another- by becoming a shopaholic with a shopping addiction. However, just as Peggy Wynne said: "shopping isn't a problem when it's done in moderation, just like moderate use of alcohol." Which is true, but shopping is becoming an addiction for many people, therefore it is the problem rather than the solution for satisfaction. Some psychologists are suggesting it really does give us a "lasting positive impact on our mood". Okay, so we might potentially feel satisfied with our new clothes for longer, but this will not change the impact it's having on our world, and it certainly won't change your bank balance! I understand that the power of the media is extremely influential: We are bombarded with new goods on a daily basis, from the internet, TV, billboards, magazines, emails, social media platforms. Its really not surprising we all get an urge to consume. But with this feeling, we can take it and use it to our worlds advantage, yet still feel satisfied.
Being Conscious
I'm not suggesting we should never shop. Moderation and having a conscious mindset is key! It is so much more exciting to shop second hand; like an intriguing treasure hunt, and you appreciate the item so much more once you have discovered something yourself. I personally find it a lot more satisfying. You know exactly what will be in the high street – it will be whats 'in' and whats currently being plastered all over your local town and broadcasted world wide across the internet. Plus it will be what everyone else is wearing! Shopping second hand allows you to use your own style and mind, decide what you really like and don't like, you will find terribly entertaining items that are not your taste, and you will also find incredible bargains that you fall in love with, that you would never have found anywhere else on the high street, because it is "so last season!" #beyou #beconscious.
My blog will focus on garments, but of course you can find lots of different appliances in second hand stores, or online. Just like Clothes can be washed, Knifes can be sharpened, curtains can be redrawn, and glasses that are not yet broken, are very decent glasses indeed ;)
My upward Journey
My knowledge and passion expanded as I traveled. I also realised how important sustainability was for the world: not only our clothes that end up in landfills, but the amount of plastic and pollution that was also extremely apparent. Particularly in third world countries, where they are not educated about this and do not yet recycle. Even when the plastic is thought to be discarded of in Asia, the pollution lingers, because they are burning it, causing extreme levels of toxic chemicals to contaminate the air! Don't get me wrong, we are doing a beautiful job to help; I visited an entire school build using plastic bottles stuffed with garbage, during my "Day in a Life" in Cambodia. But, we are lucky enough to get a good education and have the opportunity to lead a good example. We can choose to have a positive impact on the world!
In conclusion to my journey, from being a model in the fashion industry, to this evidence and knowledge through face to face experiences around the world, and having watched educational documents such as 'Cowspiracy', "The True Cost" movie and "Racing Extinction", I made the decision to become vegetarian, because I believe you cannot be an environmentalist and still eat meat. I also decided to continue to live my life as a minimalist.
Finally, I plucked up the courage to utilise my skills, ambition, passion and experience by creating my very own website and blog: During my travels, I did start a travel blog with a former companion, but was lead to believe that my writing skills were rather inadequate. Nevertheless after enlightening my own dignity, I am stronger and wiser and I believe that practice makes perfect (as the saying goes). I'm not doing this blog to receive writing awards after all, in fact I'm not doing it for me at all. I am doing it because I have so much passion, to help the world and the wonderful people who live in it!
My aims:
I want to encourage people to be more mindful when they are shopping by taking control of their lives, decision making and living consciously.
I want to educate our next generation on the fashion industry and sustainability.
I will point out the errors in our current fast fashion industry and systems, but focusing on solutions and how to stimulate progress. For instance prompting alternative options to shop, such as charity shops, second hand stores, recycled and upcycled clothing and products and Eco brands.
Share travel experiences and Eco friendly and charitable opportunities, companies and brands to support whilst travelling.
To become the Brand Ambassador and Model for, whilst advertising Eco friendly, sustainable clothing, brands, products and companies.
Organise and advertise Eco events in the UK.
Sell second hand clothes to keep the cycle churning!
Just like any issue, acknowledging the problem is the beginning of a great recovery. If we must consume, we must learn to re-consume!
Please feel free to share the love, share ideas, comment, subscribe, message me, educate my audience, collaborate! I am eager to learn in order to help as much as possible!
Thank you so much in advanced. Enjoy the journey...