The culture of Loving Kindness
About to embark on a whole new travel adventure, where I was about to dedicate my soul to the teachings of Thai Yoga Massage by Asokananda, Yoga and Meditation in a small village north of Chaing Mai, Thailand with the Sunshine Network. It was going to be reasonably cold in this area during the months of January, which is when I would be visiting, and after living in the summer season for over a year at this point, I certainly was not prepared. (Please visit "The weight on my shoulders" blog post for more information about my minimalist backpack). At this point in my journey, my backpack consisted of light in weight spaghetti tops, a bikini, shorts, skirts. Basically, attire that covered relevant body parts to keep cool and keep my modesty. But I did of course (as every traveler should), also carry a sarong wrap, a scarf and long sleeved top that I wore to any temple, village, or in my case wore everyday on the beautiful Muslim Kangean Island I was stranded on, out of respect for their culture (but that is a whole other travel story!) In fact, the only reasonably warm items I carried, was a hat, a pair of socks and a cardigan for (rare) air conditioned bus journeys and flights!
The affable Yangon Market
I was currently travelling in Burma/Myanmar and decided to explore the exciting Yangon markets! I have been to many markets through out my travels, but this one was very special indeed: This market was extremely vibrant and energetic. Everywhere you turned was colourful food, clothes and warm hearted people with breathtaking smiles of joy! I wandered the streets in my element; exchanging smiles, taking photos and browsing everything I was surrounded by out of sheer curiosity...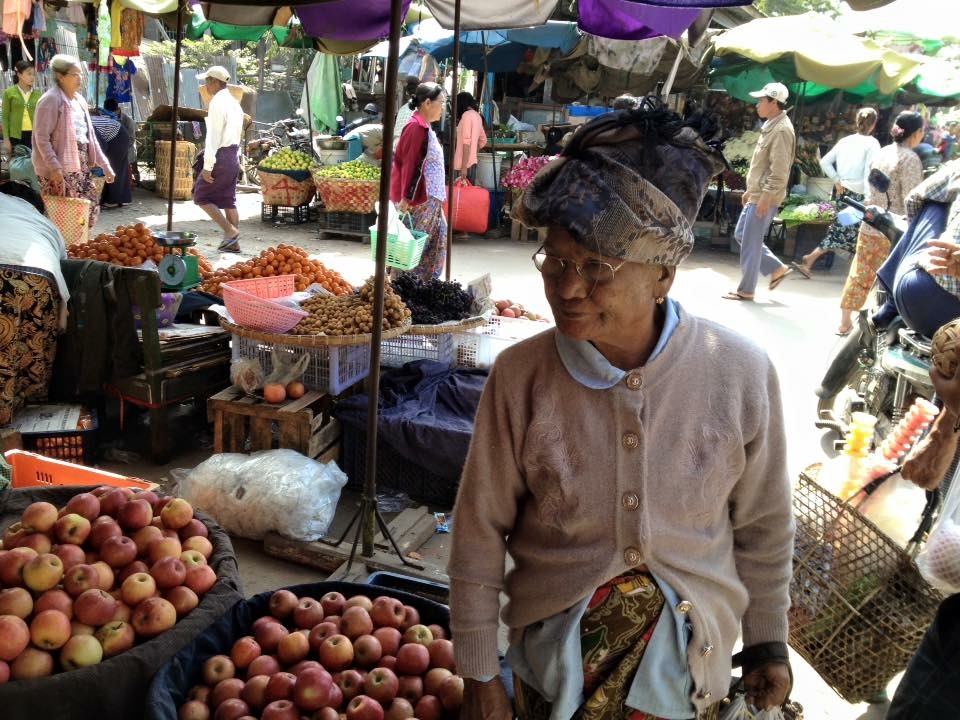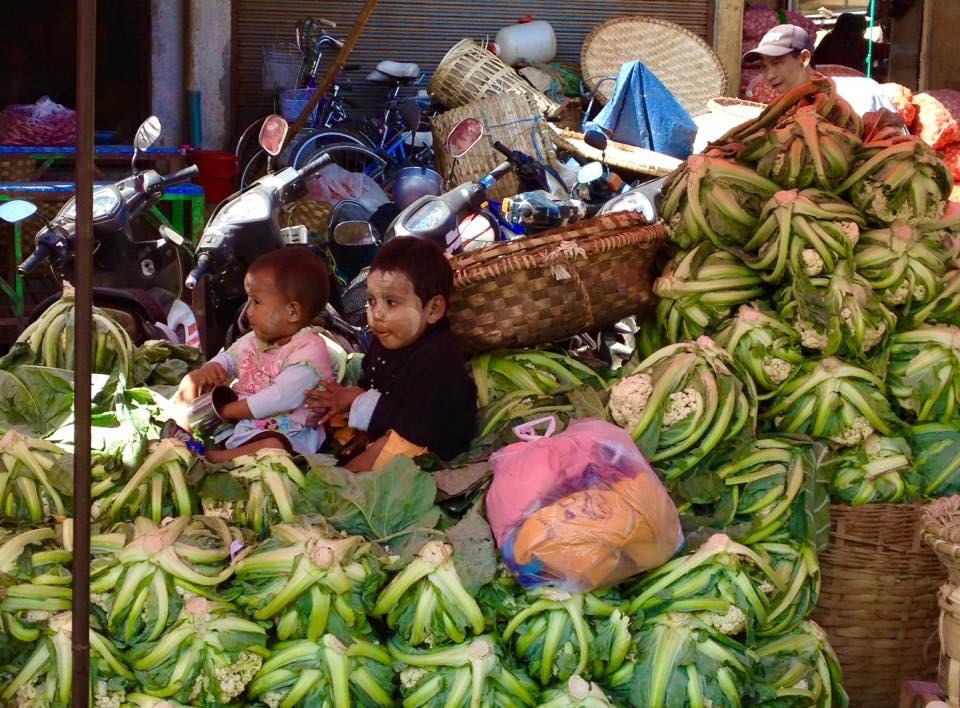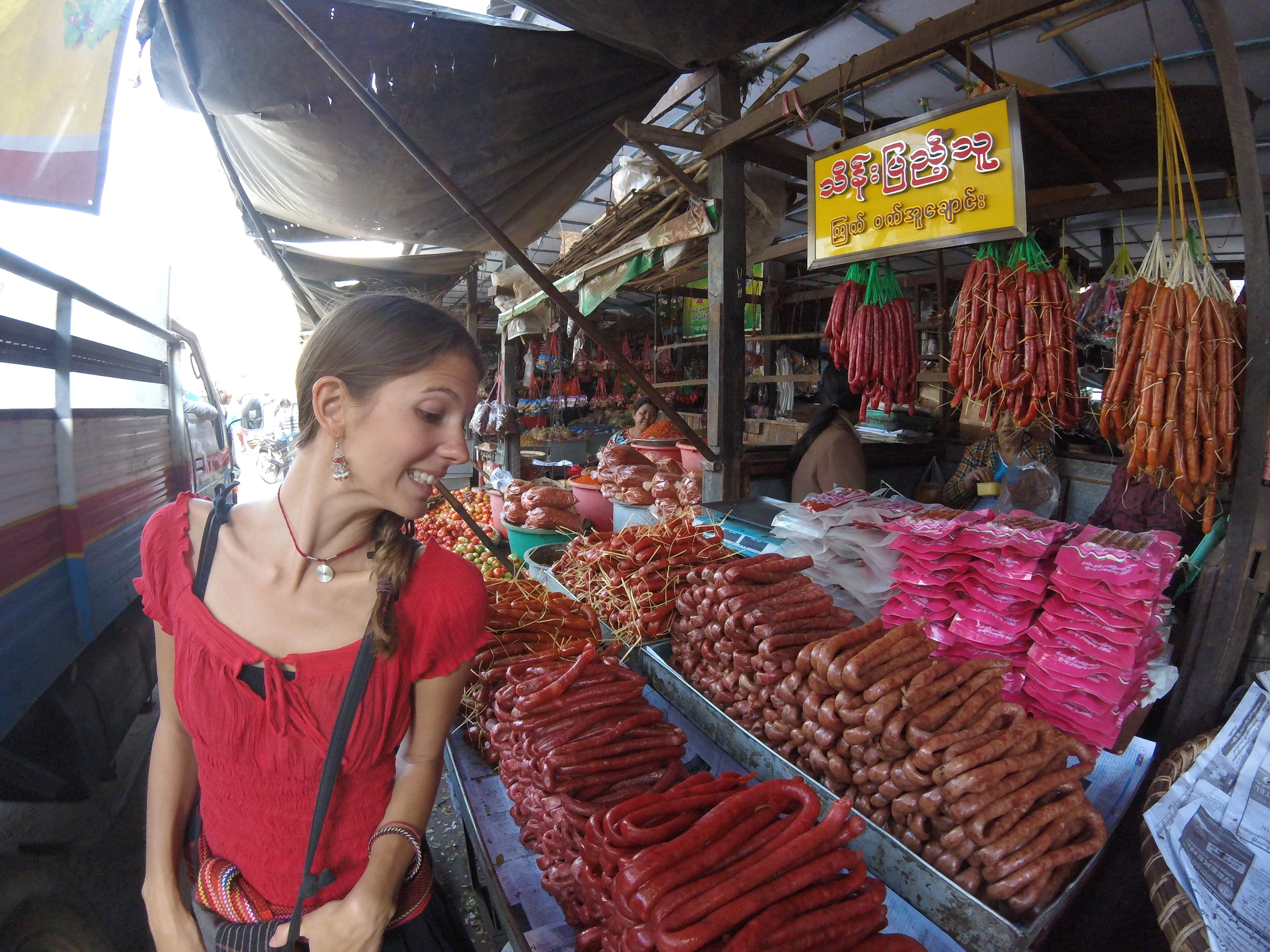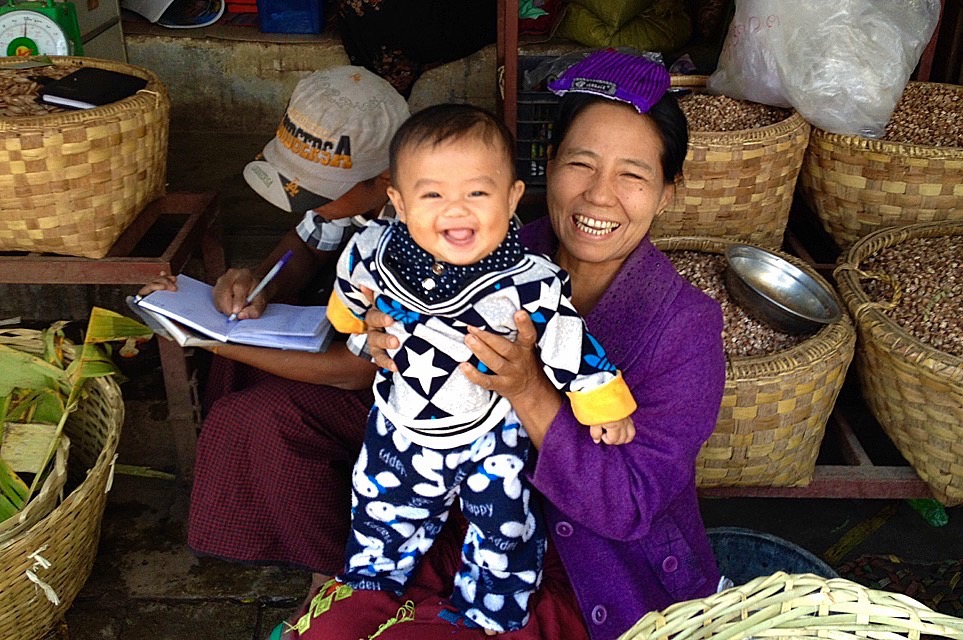 Second Hand Fun!
I was looking down at a pile of clothes that I believed to be second hand. There were three voluptuous ladies laying over the garments, looking rather drained with tops over their forehead as a form of protection from the sun. I was impressed to find the second hand clothing, but unfortunately the clothes were not what I was looking for. I couldn't quite believe my luck when I gazed away and noticed a fragile old man slowly pushing a wooden cart towards me. It was a heap of second hand jackets and coats! Exactly what I needed AND second hand!
The mans smile was unforgettable as he stopped and realised that I was extremely interested in his store. Meanwhile the tired ladies perked up; they surrounded me with their huge grins, they had been hiding, and helped me find a suitable coat. It was a beautiful moment that I will never forget! Language wasn't an issue. I simply pointed to the jackets I preferred and used body language and facial expressions and my emotion to communicate. The hospitable Burmese people would act as my "mirror" and advise me on what looked best. I trusted and valued their opinions with abundance. With their help I had found exactly what I was looking for, what I needed; a second hand, warm black coat. He asked for the equivalent of £1!! I gave him more!
"There was a language in the world that everyone understood… it was the language of enthusiasm, of things accomplished with love and purpose, and as part of a search for something believed in and desired." The Alchemist, Paulo Coelho.